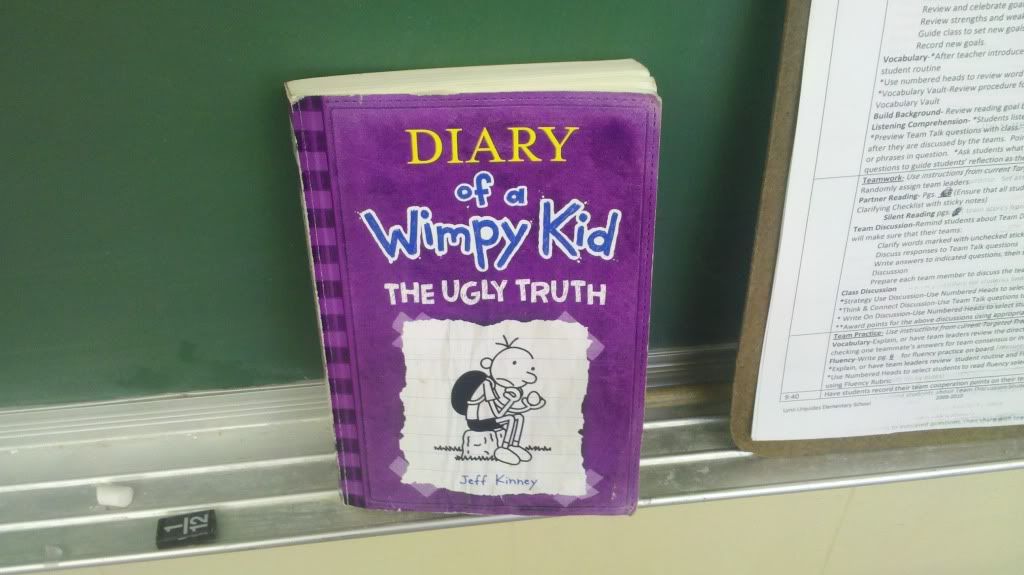 What bonds your class together? Families do certain things together that create fond memories and tighten the family ties. These shared experiences are important, and I maintain that they are just as important for a classroom.
When I taught in Wisconsin, I was the only third grade teacher in my small school. If you were there for third grade, you had me -- and you made gecko houses. Every child had a shoe box and a brightly colored rubber gecko. Nothing went to waste in that classroom. The plastic ring from a roll of tape, or the cardboard box from the new roll -- these went into gecko houses. A mother brought us rug samples and books of wallpaper samples. A scrap of wrapping paper made a great television set. Students created elaborate systems for their geckos to safely enter and exit their gecko houses; trap doors and ladders that could be pulled in with a string were very popular.
Younger siblings looked forward to coming to third grade and getting to make their own gecko house, and students graduating from the school at the end of eighth grade still had theirs and still spoke fondly of that experience. Students with limited social skills were able to share in an experience with their peers, even if the limits of their abilities were simply sitting next to another student while they worked on their houses. They didn't mind rainy day recesses or when the weather was too cold (below zero) to go out; it meant they had gecko time.
My current school has no opportunities for creativity, and so unifying experiences are different from those at a school whose mission statement includes educating the whole child. But one shared experience we have had this year is the joy of a purple book.
It's safe to say that a number of my students only read under duress. They are below reading level, and so the books for their reading level (when they leave for reading class) don't match their interest or emotional level. Since I don't teach my homeroom for reading, it's hard to find a time to get them hooked on any book series, such as Magic Tree House. However, the Diary of a Wimpy Kid series has been very popular, even with the low readers.
Therefore, when the latest one came out, two students were able to buy a copy from book orders. I am just as interested in the series, so I got one at the school book fair. When I was finished reading it, I had every interested student put his or her name on a slip of paper, and I drew a name. Each student had two weeks to read it. As the others who had a copy finished theirs, they volunteered to draw names and share their copy as well. As a class, we inhaled that book with the fervor you would associate with the publication of Harry Potter and the Deathly Hallows.
Everyone in our class has read at least part of the book. It is something we enjoyed (to varying degrees), and a shared frame of reference. It is something I can use as an example, and students know what I'm talking about.
Those of you who teach reading to your own class, and those of you at middle class schools may not quite understand this. My school has no specials, per se. There is no art. We had OMA in the past, which shrinks to a smaller and smaller amount of time. The OMA teacher has not yet set foot in our classroom this year. We will probably get her in March or April -- and school ends in May. We have a beautiful library that was redone by Target volunteers. We get to check out books maybe once a month, because we are on a bi-weekly schedule, but our time is always pushed back because of a library presentation: Dia de los Muertos, Dr. King, Chinese New Year, things that are not unimportant but prevent the students from checking out books. We have no PE. Instead, we have what is euphemistically called "extended recess," which means the teachers (who are not PE professionals) take the kids outside with balls and jump ropes. There is one computer in my classroom. There are some in the library, which we have as limited access to as we do the books.
Thus, we don't have a lot of shared experiences that involve fun or pleasure. They will certainly not look back at this year and say "Remember in fourth grade, when we did math?" But they will remember drawing names for this book. They will remember that this was something we all did together, and next year when they're divided among the fifth grade teachers, the Diary of a Wimpy Kid will help them connect with their new fellow students.
I do miss the gecko boxes, though.